Our Programs/Class Descriptions
Recreational Dance Program | Competitive Dance Program I Ipswich Winthrop and Doyon After-school Program I List of Special Choreography and Dance Instruction Services

Twinkle Toes/Creative Movement
For children ages 2.9 and 5 years old: A unique program for our youngest students. Classes are designed to introduce these youngsters to the fun and spirit of the art. Students are introduced to the basic elements of Jazz, Ballet and Tumbling, utilizing playtime and imagery. Pretend play and vivid imagination are main components to this class and vital to this age group. The class will use different props and toys to experiment with space exploration and richness of movement and joy through music and play. Do you have a little one who smiles and bounces around each time they hear music? Yes! Then it's time to bring her to Twinkle Toes Class! These classes aid with coordination, the development of fine motor skills, musical awareness and listening skills. A variety of activities introduce the young dancer to the magical world of music and movement. Choose your favorite or combine them and get a discount while giving your toddler more fun!
NEW! Mini- Ballet/ Tap or Ballet/ Jazz Combo classes
Mini Ballet - Tap combo A
Mini Ballet - Tap combo B
Mini Ballet - Jazz combo C
For children ages 4-6. This is an introductory class to the basic elements of Ballet, Tap and Jazz dance styles utilizing creative play, games, and excersices geared to motivate young kindergarden and prek K students in a playful and engaging class.
The class is fun and activity pack, using props for learning as well as role play, while introdicing the very important and fundamental bases for Ballet, Tap and Jazz. Combinations across the floor, jumps, flexibility and coordination development, listening and moving to the music, and for those of them who are stage inclined, performing opportunities are part of the program, as optional alternatives.
Your little one will not stop bouncing to the music and dancing around the house once they start! Are they doing this already? Well then with even more reason, join us for a class where they can safely and creatively explore self expression, dancing and of course, making new friends, which is a great opportunity for them to socialize and get to know buddies who can become life long friendships.
Jazz Classes: Levels 1 - 5
Jazz 1
A class designed for students who are between 6 and 8 years old, or for a young beginner dancer with none to 1-2 years experience.
This class is a wonderful base for Jazz Style dancing education, as it explores Jazz introducing segments of choreography and dance vocabulary in addition to encouraging self expression and freedom of movement, flexibility, coordination, strength, artistry and stage presence are main components of this class. The social aspect of this class encourages and generates new frienships while sharing a fun filled learning experience.
Dancing is a powerful tool for those who may be a bit shy, reserved, or timid. It encourages self confidence, openness and optimism, as well as providing chldren with an alternative source of friends or in addition to their school ones.
A confident and happy, bouncy child will fourish within this class, which will bring out the best of her/his personality.
A child who has discipline issues will begin to understand the value of following rules and guidance of others while enjoying the art of dance and the ability of utilizing that inner energy in a creative and positive way.
No matter what your child's unique traits may be, this is a class where he/she will surely enjoy and look forward to attending every week.
Jazz 2
A fun, fast paced moving class for students ages 8-10 years old, or students with basic dance experience, or who wish to learn the basics and more. Jazz technique, flexibility, coordination, combinations across the floor, stylized routines. A fast and fun paced class for everyone! Exploring emotional expression and storytelling through the art of dance. Use of popular songs which kids are familar with, while learning excellent tecnique and style.
Is your child beginning to spend hours on their phone? laptop/video games? Is his or her self esteem being affected by the amounts of " likes" or "followers" they have? Does he/ she compare his or herself to others and feel badly? This is a common problematic of this age. How can dance help? Keeping active promotes overall well being, being social and making new friends helps with isolation, boredom and lack of motivation. Self expression and finding pleasure in movement help with emotional well being and strong sense of self. Dance technique helps by providing concrete elements to achieve learning of specific skills. Listening and dancing to music are proved to lift depression, ease anxiety and boost self confidence.
Is your child popular, well adjusted and happy? Then dancing will only help grow those qualities and empower leadership and well as self assurance, while keeping healthy, active and engaged, while making new friends in the process.
Jazz 3
For students 11-13 years old, or students with 2+ years experience. Jazz dance techniques and combinations, flexibility and coordination challenges, stylized routines , fast pace and creative style. Emotional expression, story telling and creativity are vital elements of this class.
A great way to be active, learn cool styles to popular songs pre teens love, and experience dancing as a creative way to fitness and artistic expression
Has your child tried every sport already and doesn't seem to find one they love? Most likely you are in the presence of a creative child. Dancing is one of the most complete and powerful vehicles for your child to experience what he/she has been longing for: fun, non-judgemental environment, creativity, physical fitness and self expression limitless possibilities.
For those with several years of prior dance experience, this is simply a logical step up to continue flourishing in their dance education, adding new skills and improving their perfomance level as well as continuing developing long lasting friendships aside from the school setting.
Jazz 4
For students ages 13-15. An intermediate to advanced fast paced class with Jazz technique and Choreography, emphasizing connections and stylized movement. Emotional expression, story telling and creativity are vital elements of this class.
New skill aquisition by the introduction and or polishing of more challenging jumps, turns and flexibility stunts as well as more complex choreography patters. Upbeat and popular music is used for teen's enjoyment. Music is a very important element in the teen culture. This is why we consider a great benefit to using songs kids this age are listening to.
A class to get your feet wet into intricate choreography patterns while challenging yourself physically and keeping healthy and fit, as well as expressing and asserting yourself.
Do you want an environment that is bullying free/accepting of yourself for who you are? You will find that within what this class has to offer. Positive interactions, encouraging atmosphere, friendly vibe, while having a blast learning refined Jazz technique and improving your perfomance and general dance skills.
Jazz 5
For a students ages 15 and up. An intermediate -plus to advanced class to enrich your dance skills and vocabulary, perfect challenging tricks and learn complex and rich choreography patterns. Fast paced, hip and cool. Fresh choreography and music to allow you to explore your passion for dance. Strength, flexibility, fine coordination, artistry and a stylized complete Jazz education.
You have been dancing for several years now. You know how it feels to nail down a fun routine. To sweat to the music and leave your heart on the dance floor. This class is for you. To help you achieve what you haven't yet, to perfect what you already know and to add prescion, finesse and artistry to all your skills. Join us for a class that will deliver what you are looking for..
Are you looking for a new Studio? Have you been with us for a while? Either way, we are waiting for you with open arms to provide you with a place where you BELONG. Where you want to be at. Where you feel accepted, supported and challenged in the most positive way possible.
Lyrical and Contemporary
Lyrical and Contemporary 2
For students ages 8-11 . Beginners and beginners +. This class will teach your child the fundamental technique of Lyrical and Contemporary styles.
Is your child an "old soul"? Is she/he emotional and sensitive and in tune with his or her environment and or feelings? perhaps with a flair for self expression?
Or, has your child learned other dance styles and is looking for something to encompass the best of each one?
Would you like to give your child the opportunity of exploring an art form that is based on beauty, sentiment and self expression? If so, this is a great class for him/her.
Lyrical dance combines the beauty of Ballet and the strength of Jazz techniques. Based on fluidity, style grace and the element of storytelling.. The movement is fluid and sustained, and it utilzes elements such as turns, extensions, leaps, plus beautiful and sustained movement which is choreographer to portray the music and its lyrics. Contemporary style combines all three: Ballet, Jazz and Lyrical in a very expressive style of dance that is more visceral yet fluid and strong.
Contemporary Classes (Levels 3, 4 , 5)
Contemporary 3
Contemporary 4
Contemporary 5
Based on ages and prior experience, the Contemporary Classes combine three popular styles of dance. Ballet, Jazz and Lyrical. Contemporary dance has a strong element of self expression , it can be abstract, story telling, balletic, and or unconventional. Highlly creative and innovative, still including the technical elements and challenges of dancing, extensions, jumps, turns, etc.
It allows for great versatility and variety as well as freedom. A wonderful way to exersice athleticism while connected to emotions, connection to others and promoting insightful dancers.
Recommended for: Dancers with a prior base of technical dance education, dancers who want to embrace the most versatility of dance styles and go to the next level in expressing their passion for the art. Dancers who are creative, insightful, passionate, sensitive, wanting to express themselves through their physicality.
Ballet Classes (Levels 1-4 and Pro Ballet)
Whether your child is playing "ballerina" and twirling at home, or she/ he has started Ballet education, whether he/ she is an intermediate or advanced Ballet dancer, we have a class for you which will deliver new technical skills and proficiency as well as immersing you in the beauty, artistry and love of Classical Ballet.
Offered in different levels according to prior experience, Ballet classes offer everything a dancer needs to achieve great technique, posture and grace.
Children begin to learn the exercises necessary for mastering the placement of the body, the legs, the arms, and the head. They work in class on the development of skills and the coordination of steps. The classes become increasingly complex as students advance through systematic development. As their training progresses emphasis is placed on developing strength, stability, and grace.
Acrobatics/Tumbling Classes (Levels 1- 3 and Mini)
Does your child seem to have a love for being upside down? Does he or she come from a gymnastics background and want to add new skills and dance form to their portfolio? From suummersaults to cartwheels to aerials and back hand springs... we have a class for them.
Little tots will enjoy Mini Acro and feel like superheroes. Dancers wanting to add acro skills to their dance education will take their dancing to a new level. Advanced dancers will enjoy the challenge and add stamina, flexibility, skill and strength to their routines. Gymnasts wanting to add beauty and gracefulness to their skills will achieve their goals.
Offered in different levels depending on prior experience. A wonderful assistance to the physical body. In addition to being fun, students improve flexibility, coordination and strength. Acrobatics enhances the development of gross motor skills and as students begin to excel at mastering tricks, self confidence is achieved.
Tap Classes (Levels 1-2 & Mini)
Musically oriented child? who can't stay still? energetic feet? Tap is the way to go! Interested in the basics of a fun graceful rythmic and energetic form of dance? Tap will deliver! Have been tapping for several years and want to learn more advanced steps and technique to enrich your choreography? We have a class for you.
who Offered in different levels depending on prior experience. The study of rhythm and precision. Tap is an exciting art and an excellent foundation in dance education. In addition to learning the dance steps basic to most tap instruction, we encourage a full body approach which encompasses all forms of dance as a means of enhancing the overall technique.
Musical Theatre (Levels 1 & 2)
Who doesn't love Broadway?! This class gives the student a chance to learn Broadway based dance styles, using real Musical Theatre pieces, allowing dancers to explore parts of acting while dancing and story telling using emotional expression and role playing. This class will explore the fun of drama, music, dance, theatre games and improvisation.
Hip Hop Classes (Levels 1-3)
Offered in different levels (1-3) depending on student's age and prior experience. Hip hop is a high-energy class that infuses the latest styles of street dancing, breaking, popping, and locking. Hip hop dance requires students to have the strength and stamina to successfully perform moves. A super-fun, fast paced class for those wanting to learn the latest trends. Hip Hop derived from Street Jazz and has become a prevalent style within all Dance styles , that students love to perform given its versatility, fast rhythms, modern style and less rigorous technique.
NEW! Junior Ballroom: (Ages under 18)
This exciting new class will teach students the elements of partnering, and first level of techniques for different styles like Salsa, Waltz, Foxtrot, Swing, Jive, Tango, Merengue and more. Ballroom amongst young studnets is beocming HUGELY popular. It allows kids of all ages to interact with each other on the basis of cooperation and respect, as well as consideration for others, since they are sharing space and steps. It is a versatile class where studnets will be exposed to a rich variety of rhythms and dancing, making it fun, exciting an dalways changing, while keeping technicality and form intact. Your kids are sure to have fun with this new addition to our program!
Voice Instruction/Acting Elements
Private or semi private classes, with the highest quality instruction for your child. These newly added classes will include two inportant elements for those with great interest in Musical Theatre, Acting and Singing in one exciting package. Versatility in these field makes a difference when auditioning for any show in any scale whether is a School Show, Community Theatre Show or Pre/ Professional Show. Let your natural born perfomer have a shot at this class which will enrich his/her talents and allow them to shine on stage!
Adult Classes: Ballroom (Latin,Tango, Salsa, Merengue, ChaCha, Waltz, Foxtrot)
This ON GOING class is for Adult Beginners who are interested in the different styles of Ballroom. The class will expose you to varied rhythms, each eith their own style and technique, footwork and cadencies. A great class to stay active, challenge your memory ( yes! remembering new dance steps is exercise for your brain!) , socialize and learn how to look great on a dance floor ( even if the dance floor is your living room floor!) Weddings, social events, cruises, office parties.. you will look great and have confidence to get up there and enjoy the music! (instead of sitting at the adult's table, wishing you were younger to join in the fun!) We will also have some special ADULT NIGHTS to have fun, relax and share what we learn.
For Adults, upon request: Hip Hop, Tap, Ballet , Jazz/Contemporary, Musical Theatre also available
Private and semi private classes for adults are taught on request. Adults have busy schedules which change often, making it harder to commit fully to a consitent schedule Private , semi private and group classes are available for all adults from beginner to intermediate and intermediate/advanced. If you are interested in taking an adult class in any of the styles mentioned above, please email us directly with your request at: marianasdancing@aol.com. We can offer you different packages which can make sense for your needs and schedule.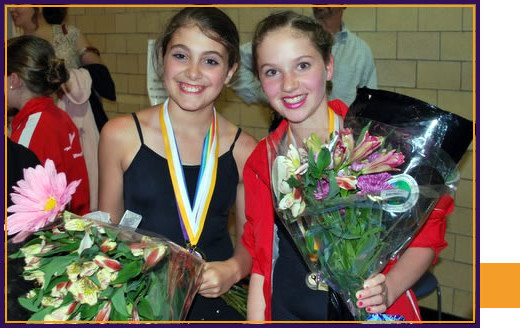 Note: Participation on the Teams is via open Auditions, private auditions or Personal Invitation.
-DANCE AS A COMPETITIVE ACTIVITY-
Competitive Dancer's Required Classes
All competitive dancers are required to take a minimum of 5 classes a week, these being:
Competition Choreography
This class is teaches the official choreography that will be performed at each competition and scored by judges. This choreography is chosen based on the team's strengths and it is renewed or perfected as the year goes on and dancers become more accomplished in their skills. It is a highly technical class, where precision, good technique, acting elements, overall skill and performance talents get showcased not only in each Recital, but also in each competition and Showcase.

Dance Tricks and Technique Class
This class is designed to improve flexibility, stamina , strength and technique level of the hardest tricks in Dance. Multiple turns, high jumps, and many other special skills needed for today's competition world requirements are provided in a progressive manner to all students for best results.

Ballet Class
All students who wish to compete are required to take a Ballet class which fits their level and skill ability. Ballet is absolutely vital to learn proper technique and posture to achieve an excellent performance. Ballet class adds gracefulness, connectivity and precision to all dance skills.

Recreational Class
We like to offer a variety of skills and styles, and Recreational classes are fun and fast paced, keeping the dancer versatile and motivated. The available Recreational classes to be included in the Competition Package are: Jazz/ Lyrical?Contemporary, Musical Theatre, or Ballet. (Excluded from the package, and to be purchased separate are: Hip Hop, Acro Tumbling, Tap and Ballet, which are specialities and while all dance is related, we are training our competitors within the most valued standard styles in the Regional and National Competitive Arena.)
Conditioning and Turns Class
As years go by, we perfect our Competitive program to include all the skills our studnets need to excel. Regular conditioning becomes a must, as Dance as a COMPETITIVE SPORT is very demanding, and requires dancers to stay fit, strong and flexible. Turns practice will be part of this class , as turning is perhaps one of the most challenging aspects of dancing. Providing instruction on stability, balance, alignment and proper execution allows our dancers to master turns they could not achieve otherwise.
Turning enriches greatly the skill level of any dancer, and are highly regarded and considered at any dance competition or performance. In addition, for those wanting to pursue Dane in the College years, having this special class will allow them to achieve at a much closer range the objectives and goals required by Colleges for their respective Dance Teams programs. As for the younger students, mastering turning is exciting and makes any dancer feel and incredible sense of accomplishment . Recreational students who are ambitious and curious , wanting to expand and enrich their dance skills are HIGHLY ENCOURAGED to attend!
Mini Competitive Team
Our newest addition to the program, it is offered for students ages 4-7 who wouldlike to take a first try at dancing as a Competitive Sport, and "dip their toes" into the dance Competition Arena. The requirements for Mini Competition Team are not the same as the older students, considerin their young age. Mini competitive Team will be required to take:
1- Mini Competitive Team Choreography
2- Jazz Lyrical 1
3- Mini Gymnastics/ Tumbling Class
4- Ballet 1 or Twinkle Toes Ballet class
We strongly recommend adding classes beyond the minimum required for any competitive dancer to achieve the highest level of performance possible, to reach far and beyond, and realize their great potential and talent.
Experience has shown us that, not surprisingly, students training the most amount of hours, become the most accomplished.
LIST OF SPECIAL SERVICES/CONTRACTS
Ipswich Wintrhop and Doyon After-School Dance & Acrobatics Program
-Questions? please contact Director at: marianasdancing@aol.com or call 978-380-0775
Private Classes in ALL dance styles are available upon request - email Mariana with your requests!

Country Clubs and Residence Groups Packages classes are available in all styles, including Ballroom: offer your members a fun experience to re-connect and stay active!

GETTING MARRIED? Inquire about our specialized DANCE CHOREOGRAPHY WEDDING PACKAGE! From Bride and Groom and their special First dance as husband and wife, to mother and son, dad and daughter, Bridal Party special dance , entering church/ reception venue bridal party dance, and of course LGBT weddings with dances for all involved! Please email to inquire. Make your wedding a fun one that nobody will ever forget!

CHOREOGRAPHY SERVICES AVAILABLE for special events: Musicals, School shows, Fashion Shows, Corporate events, Special Birthday parties with themes, Bar / Bat Mitzvahs, High School reunions and more.