After-School Dance & Acrobatics Program
Welcome to Our After-School Dance & Acrobatics Program!
Does your child attend Winthrop or Doyon elementary in Ipswich?
Are you working/busy and would like a longer school day?
Would you like to offer your child a safe, enriching, loving and creative environment for those extra hours, while keeping your child physically active, healthy, and socially engaged?
Would you like to offer your child an activity that is very closely supervised and pays attention to the individuality of each child?
Our After-School Program was first run in 2018- 2019 to much success and the cooperation with the local public Ipswich school was wonderful.
The program is a fun and active introduction to dancing and acrobatic skills, and the students get to participate in studio performances if they choose to. Last year's students were showcased in the Winthrop Annual Variety Showcase, as well as a holiday show and an end-of-the-year recital.
Most importantly, the students in our After-School Program unleashed a new passion, discovered a new activity to keep them engaged and healthy, and made friendships beyond their school schedules; bonds that will last for years to come.
We would LOVE to have your child be part of this collaborative and successful program! Please make sure to REGISTER EARLY to ensure admission! Due to its popularity, slots are very limited.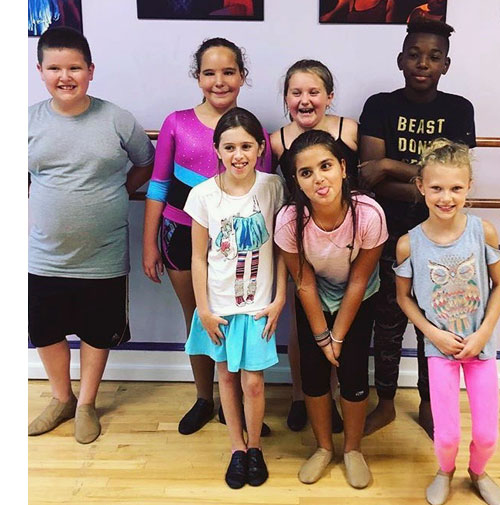 Who is the Program for?
MDS After-School Program is offered to boys and girls in the 1st, 2nd, 3rd, 4th, or 5th grades. There are 2 age groups: Ages 7-9 and Ages 10-12.
When is it offered?
This dance and acrobatics program is offered on Wednesdays,Thursdays, and Fridays starting the week of September 9th and running through June 2019. It is available from the school's release time until 5:00 PM.
What is the transportation to the Program?
Students arrive to the program from school by either walking over to the studio (Winthrop students); or by being dropped off by bus (Doyon students). In either case, students are accompanied by our staff members.
What is the tuition?
1 DAY RATES:
COST:
Wednesdays
$113.00/Month -OR-
$339.00/Trimester
Thursdays
$192.00/Month -OR-
$576.00/Trimester
Fridays
$113.00/Month -OR-
$339.00/Trimester
2 DAY RATES:
COST:
Wednesdays & Fridays
$200.00/Month -OR-
$600.00/Trimester
Wednesdays & Thursdays
$240.00/Month -OR-
$720.00/Trimester
Thursdays & Fridays
$240.00/Month -OR-
$720.00/Trimester
3 DAY RATE:
COST:
Wednesday, Thursday & Friday
$310.00/Month -OR-
$930.00/Trimester
Monthly payments must be made by electronic automatic withdrawal from your bank (please contact us for details). Payment for the full trimester can be made by cash, credit card, money order, or check.